Reiach & Hall return to the Gorbals with a further 28 flats
April 21 2022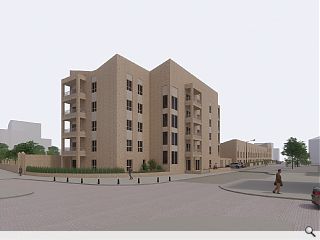 Reiach & Hall Architects have followed up plans for 64 apartments on Laurieston Street with the submission of designs for a further 28 homes for social rent at 45 Pine Place.
Again delivered on behalf of New Gorbals Housing Association the latest scheme calls for the site of the former New Gorbals Health Centre to be transformed with 18 flats and ten terraced houses.
Bookended by a taller apartment block and townhouses the linear build will back onto the historic Gorbals Burial Ground.
Explaining their built strategy the architects wrote: "The elevational treatment of the 5-storey apartment block is ordered and rational taking its cue from the heritage of the Gorbals and context; tough and robust but timeless.
"Balconies are typically expressed as part of the building fabric rather than 'outboard' of the facade, providing protection and year-round usable external amenity to each home.
"The 2-3 storey houses establish a strong built edge to Pine Place with a rigorous, rational series of window opening stepping down the hill."
The roofscape of the apartments adopts an inverted 'V' shape to mark the prominent junction with Old Rutherglen Road with both elements adhering to the same palette of light brick.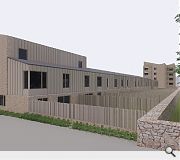 Purpose-built bin enclosures will minimise street clutter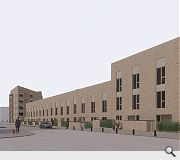 Terraced houses will each have access to a secure back garden
Back to April 2022