370 modular homes to kickstart Edmonstone Estate development
April 21 2022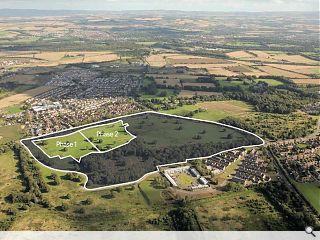 The initial phases of significant residential development at Edinburgh's Edmonstone Estate have been prepared, outlining how 370 homes (33% of which are classed as affordable) could be delivered.
Hunter Ardent Developments with Fourward Architecture & Planning has targetted a 6.26ha plot to the north of the broader development site to the southeast of the city, close to 47 recently completed walled garden homes.
Comprising the former grounds of Edmonstone House, now a ruin, the parkland site has become a focus for more recent development with the arrival of the Edinburgh Royal Infirmary and the BioQuarter.
Working to a consented planning permission in principle the latest proposals call for a mix of terraced and detached housing arranged around active travel routes while retaining mature trees and historic features.
In a statement the applicant wrote: "This proposal will deliver sustainable growth to Edinburgh, providing rental dwellings, delivered over an estimated 2 year build period. Utilising modern methods of construction, in a modular format the homes can be delivered rapidly, helping to meet Edinburgh's immediate housing need and demand."
All properties are to be finished in white acrylic render and light-textured brick.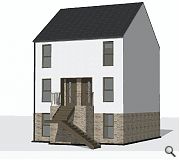 A mix of house types are proposed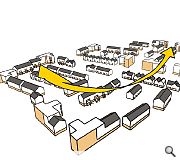 A net density of 59dph will be achieved within the application boundary
Back to April 2022