Healing process begins for shattered Laurieston street
August 4 2021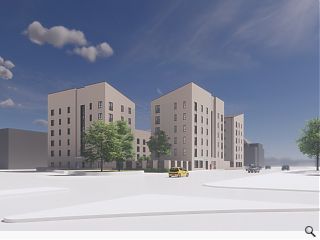 Reiach & Hall Architects have finalised plans on behalf of New Gorbals Housing Association and Urban Union to build 64 flats for sale and social rent on two adjoining plots at 99-111 Eglinton Street, Glasgow.
Rising on the former Coliseum Theatre the apartments form part of the western flank of the Laurieston Transformational Regeneration Area, a developing dense city centre neighbourhood, on approach from Tradeston.
Works will begin with the demolition of a fish and chip shop and clearance of trees, to be replaced by twin tenure blind brick blocks set amid a shared courtyard garden, with community facilities fronting the street edge to restore a lost 'hard edge'.
Conceived as a perimeter block with openings to Eglinton, Herbertson and Bedford Street's, creating prominent gables in the process. In a statement, the architects wrote:
"The opening up of the perimeter block allows more prominence to be given to the courtyard elevations. Portions of the courtyard elevations are connected via sightlines to the city beyond, and this has allowed more flexibility in planning flat layouts, eg in some instances, locating public rooms on elevations that face south and west."
A community room is positioned toward the principal city-facing Eglinton Street corner to replace existing facilities currently operating from portacabins, with an art installation and display space further activating the busy corridor.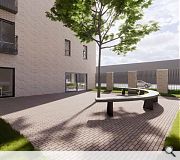 A community room opens out onto a secure garden for meetings and play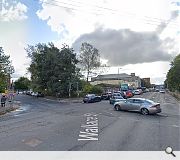 The street edge is now characterised by gaps rather than blocks
Back to August 2021