Hillcrest take possession of walled garden homes
November 6 2019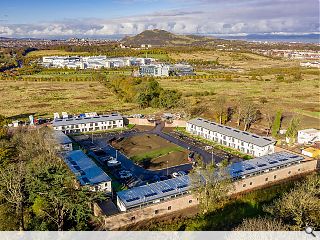 Hillcrest Homes, recently rebranded from Hillcrest Housing Association, has taken possession of a distinctive development 47 affordable homes abutting a walled garden following their handover by Hart Builders and Cruden.
The £5m development utilises a historic brick boundary at Edmonstone walled garden, incorporating the structure as its gable with newly inserted windows permitting light to pass through.
Designed by EMA Architects & Design the project saw the existing wall cleaned, repaired and repointed with access provided by a new scalloped opening marked gate piers formed from down takings.
David Zwirlein, Hillcrest director of development, said: "The remaining wall of the former Edmonstone House's garden is a reminder of the rich heritage of the area, and we were keen to retain this historic structure and make it central to the new development.
"The constructed homes have been created within the walled garden, and the wall itself features within the buildings' design."
A total of 16 cottage flats and 31 houses now sit in the gardens of the former Edmonstone House, demolished in 1950 save for its garden structures.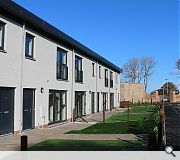 The future of the historic wall has now been secured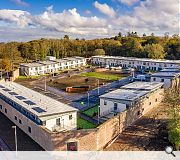 The walled garden, stables and a former ice house are all that remain of the former mansion
Back to November 2019