'City in the sky' to cater for Edinburgh Airport travellers
April 13 2022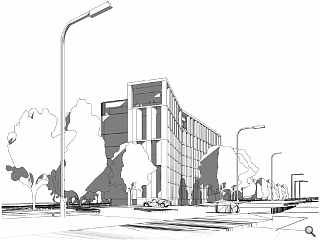 A public consultation has opened into plans to erect a hotel and restaurant at Ingliston, Edinburgh, close to the West Town development.
Creos Property plans a 'landmark' building at 4 East Mains to frame the approach to the Royal Highland Centre and Edinburgh Airport on the western approaches to the city.
Designated as an upper-midscale venue the internationally branded hotel will differentiate itself from other hotels in the area by focussing on a 'tech-led' service with all front of house facilities positioned on the upper level to make the most of panoramic views.
The applicant wrote: "The ambition is to create a destination for the city in the sky. A welcoming hotel entrance will be provided at the ground floor level.
"The proposals under development will make efficient use of the site, will limit the footprint of the building to retain the existing mature tree belt adjacent to the A8 and will maximise the opportunity to introduce further greenspaces."
HLM Architects are leading design work on the hotel which will assume the form of two 'slip/sliding' linear blocks fronting Glasgow Road at its junction with Ingliston Road.
Aiming to achieve net-zero or net-zero ready status the hotel will employ Passivhaus design principles.
Back to April 2022