B-listed Gorbals cotton mill to provide 100 apartments
April 5 2022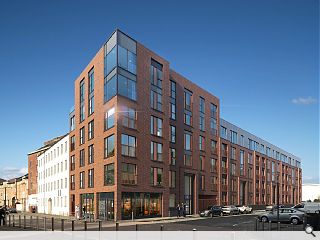 Finalised plans have been set out by Westpoint Homes and CRGP to illustrate how a Gorbals cotton mill, last in use as office space, will be remade as residential apartments.
100 one to three-bedroom flats are proposed for the B-listed Twomax Building on Commercial Road, transforming the imposing brick building into a place to call home.
Revised proposals have been brought forward for a new build element, introducing a fifth floor of accommodation by removing a saw-tooth roof, as previously consented in a 2019 application by ZM Architecture.
The latest plans see the extra floor set back from those below and finished in a grey folded cladding in an attempt to reduce apparent massing from the street.
Setting out the rationale behind the change in approach CRGP wrote: "Further to a review of the proposal with Glasgow City Council the design of the new build top corner next to the existing mill was discussed - it was felt that the proposed curtain wall glazing did not adequately reduce the mass of the new build at this point. As such, rather than using a glazed element to 'soften' the corner, a design review of introducing a balcony setback at this point was explored.
"Through the introduction of the balcony, the key idea of the new build element being subservient to the existing mill is maintained. The step back ensures the top floors do not compete with the mill, and there is a more natural relationship between the two, rather than a hard edge."
Main entrances to each close are picked out feature additional detailing with bronze-coloured glazed panels and brick soldier courses above windows adding visual interest."
A central car park is to be landscaped as a green amenity space for residents by erz.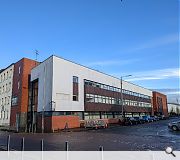 The Southbank Child Centre by McGurn Architects dates from around 2000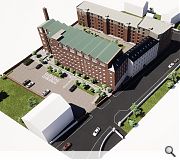 An interior car park will be landscaped to provide additional resident amenity
Back to April 2022