Elder & Cannon return to Argyle Street with chamfered apartments proposal
April 5 2022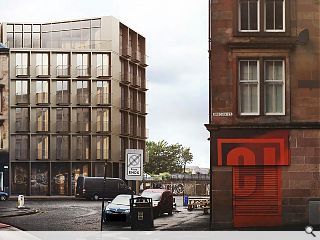 Elder & Cannon Architects have prepared plans for 18 apartments above two ground floor commercial units at 1017 Argyle Street, Glasgow.
Standing opposite the Hothouse by the same practice the latest addition to the streetscape by HJV Consultants will extend deep into a rear backcourt area.
In their design response the practice stated: "Responsibilities of working within the conservation area, the restricted footprint and peculiarities of the rear legal boundary stepping in along with boundary restrictions to the west gable set back setback from railway and tunnel with its technical piling constraints have all helped inform the detail design of the proposal.
"An option which explores the benefit of large height volume single aspect studio flats has been looked into in detail and is considered to be a positive response to the site challenges and oportunities. These allow an efficient floor plate and relatively high density of dwellings to make appropriate use of the site wuhile also addressing potential concerns of restricted access and amenity."
Topped by a 'folded' rooftop penthouse around an external terrace the pend access block is chamfered to its prominent north-west corner to show an open face when looking down Argyle Street.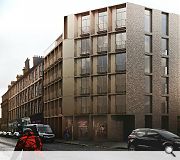 A folded penthouse floor seeks to evoke the rich chimney pot lined roofscape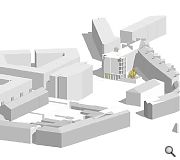 The awkward site abuts a live railway line
Back to April 2022