Glasgow considers reclaiming roads in a pedestrian priority push
March 7 2022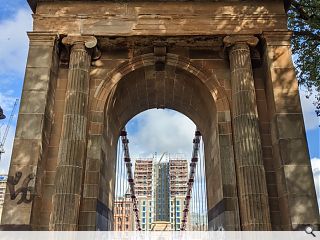 Glasgow City Council has opened a consultation into a 'people focussed' draft City Centre Transformation Plan (CCTP) that calls for city centre roads and public spaces to be reallocated for active travel, green infrastructure and public transport.
The policy shift could see city centre streets gradually reprioritised for walking, cycling and buses over single-occupant vehicles to encourage healthy, inclusive and sustainable alternatives to the car.
If adopted the goal is to see 80% of rush hour travel in the city centre made by active travel or public transport by 2030, with a corresponding 30% reduction in peak private vehicle traffic.
Key to the approach will be the creation of a People First Zone bounded by Hope Street, Cowcaddens Road, North Hanover / Glassford Street and Howard Street. Tentatively planned for 2027 this area would be defined by wider pedestrian crossings, longer red lights and greater provision of pick up and drop off points around transport hubs.
Karen McGregor, portfolio director for project backers Sustrans said: "By prioritising active and sustainable transport options for Glasgow, The City Centre Transformation Plan underlines a strong commitment to building a greener future and furthering the ambitions of COP26. The proposals outlined in this comprehensive framework will not only make Glasgow's street safer and its air cleaner, they will ensure that walking, wheeling and cycle is accessible for generations to come."
The six-week consultation will commence in May following local government elections, before a final consideration in September.
Back to March 2022