Calton-Barras action plan delivers 32 flats for mid-market rent
March 3 2022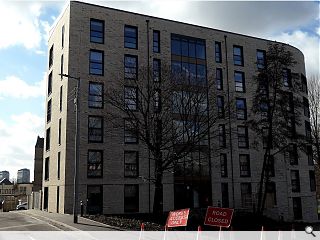 CCG has completed work on a new affordable housing development at the junction of Little Dovehill and Bell Street in Glasgow city centre.
32 flats for mid-market rent have been handed over to Lowther Homes, part of the Wheatley Group, following a 48-week build with the first tenants already moving in.
Curving with the street line the brick-clad properties step down in height with the local topography on a complex urban site.
Designed by John Gilbert Architects to meet the 'Glasgow Standard' for space and energy efficiency the development wraps around a private backcourt with 5 electric charging enabled parking spaces, three reserved for wheelchair users and two for use by the Glasgow City Car Club.
Formerly the site of Dovehill Public School the site had languished as a 1,860sq/m car park since 1989 until a £2.4m council grant enabled development as part of the Calton-Barras action plan.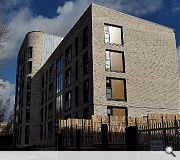 A curved frontage responds to an adjacent tenement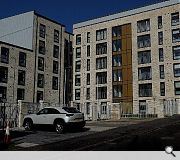 Dedicated parking is provided for three ground floor wheelchair accessible properties
Back to March 2022