Whitecraig affordable homes to anchor housing expansion
March 3 2022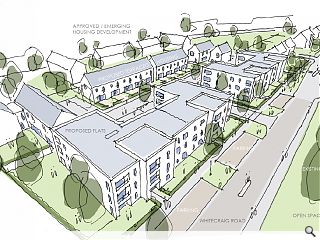 First Endeavour has opened a pre-planning application consultation into its proposals to build 66 affordable homes in Whitecraig, East Lothian.
Replacing a campervan showroom at 34 Whitecraig Road the works will connect with an approved masterplan for a further 250 properties by Miller Homes on land to the immediate north, helping to integrate them with the village proper.
A mix of 44 apartments, 12 cottage flats and ten terraced houses are proposed by Yeoman McAllister Architects, each offered for rent by a registered social landlord. In a statement, the applicant wrote: "The new proposals aim to create a positive backdrop to the park / open space across the road. There is an opportunity to improve the streetscape and create a more welcoming and attractive main street in Whitecraig which prioritises pedestrians and cyclists over vehicles.
"It also provides an opportunity to link the existing street with the emerging / approved housing development to the north west and improve connectivity in the village as a whole."
Comments are welcome through to 30 March.
Back to March 2022