David Narro Associates cross the border with a Newcastle foothold
March 2 2022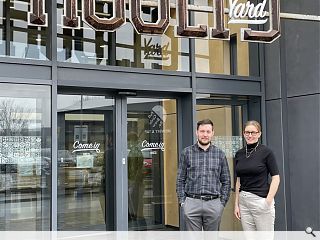 David Narro Associates have established a sixth office with a dedicated Newcastle base, its first outside Scotland.
One year after the unveiling of its Aberdeen base the structural and civil engineering consultancy is heading south of the border to Hoults Yard, a business village fashioned from a Victorian pottery and jam factory in the Quayside and Ouseburn area of the city.
Serving as a springboard for projects throughout the North East of England and beyond the team will be headed up by conservation and architectural engineering specialist Bill Calder and Jenniffer Hogarth, who brings experience in residential properties and high-rise construction.
Calder said: "We've provided engineering consultancy to architects and developers on multiple projects in the area over the years, but this work has been done from our Edinburgh & Glasgow offices. Now that we're building a team locally, with a physical office here in Newcastle, we'll be much better placed to work collaboratively with our project partners– something we pride ourselves on."
Managing director, Ben Adam added: "There's a great surge of development in the region, which ties in well with the architectural engineering side of our business. It's also a region with an abundance of historic properties and estates, and we believe our expertise in conservation and refurbishment will be a great asset to local architects, developers and property owners."
The practice has already completed several projects in the region; including a subterranean expansion of a Victorian farm complex in Northumberland to create a private house.
Back to March 2022