Developer mounts convent takedown take two bid
March 2 2022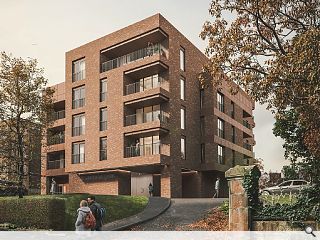 A failed bid to build 16 apartments on the site of a Southside convent has spurred a change in tack by a new applicant and design team.
Surplus Property Solutions have teamed up with Haus Collective to again call for the demolition of the former Ben Secours Convent at 32 Mansionhouse Road in favour of a five-storey apartment block after the former was declared 'unviable to retain and develop'.
All that will remain of the former convent is a stone pillar, wall and railing with salvaged sandstone employed to create a second gatepost and boundary wall.
Redbrick facades and a matching stone rain screen soffit are proposed to accentuate changes in floor level and highlight recessed balconies with all properties being dual or triple aspects.
In a statement, Haus wrote: "The existing site will be cleared to facilitate the creation of a vibrant, dynamic, development promoting liveable urban density. Proposals embrace the constraint and opportunity presented by this urban site, whilst protecting and enhancing the wider urban context."
A previous application was turned down because 'no reasoned justification' was provided for the loss of a traditional sandstone building, among other deficiencies.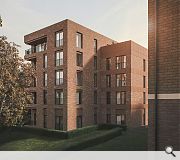 18 parking spaces are to be provided in the grounds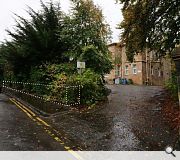 Salvaged stone will be used to reinstate the site boundary
Back to March 2022