First tenants settle into a regenerated Bellsmyre
March 1 2022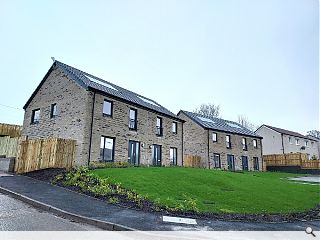 Caledonia Housing Association has welcomed the first tenants to the regenerated Bellsmyre housing estate at Muir Road, Dumbarton.
Four families have been handed the keys to their new homes in a 66-home first phase of a broader £40m redevelopment, partly funded by the Scottish Government, which will complete in May.
Designed by ECD Architects and built by CCG using modular off-site construction techniques to minimise the need for heavy machinery and traffic the mix of 44 three-bedroom family homes and 22 apartments are finished in grey multitone textured brick.
Each home offers views across the Clyde to Dumbarton Rock from the elevated site and will include a small park and play area when complete. Just as phase one wraps up phase two has been granted consent by West Dunbartonshire Council to maintain the pace of delivery.
Project architect Dilveer Kaur Hoonjan said: "We are delighted to receive planning approval with the positive feedback we have received from the community and West Dunbartonshire Council for this project for Caledonia Housing Association. We look forward to seeing the project progress over the coming months."
Phase two constitutes a further 140 properties built to a range of standards, including operational net-zero carbon and Passivhaus properties, to replace rundown tenements.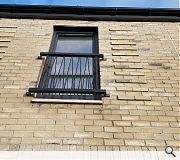 Matching homes and apartments are finished in grey multitone textured brick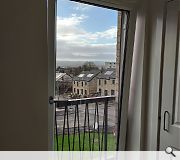 The elevated site offers views across the Clyde estuary
Back to March 2022