£14m Livingston ASN school cleared for construction
January 20 2022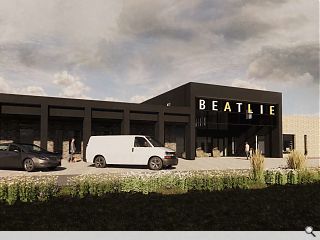 Plans for a £14m additional support needs (ASN) school in Livingston have been given the thumbs up by West Lothian Council.
The planning green light clears the way for construction to begin on the 2,437sq/m Norr designed Beatlie Campus adjacent to the Craigswood Sports Centre off Grange Road.
Combining an ASN school and child development centre in one building the school replaces the current Beatlie Campus with a purpose-built school arranged around a central reception area and gym/assembly hall. A collection of learning pods connects with practical teaching spaces to the west including a soft play area, sensory room and offices.
In a design statement, Norr wrote: "The central pods have been designed with curved corners to aid movement around the central spaces and to make the central zone feel more open and less institutional. The central zone also benefits from a larger volume than the classroom wings which allows the introduction of clerestory glazing to get natural light into the centre of the building plan."
Finished in brick and metal cladding the school turns to focus on an entrance canopy that wraps around the public-facing eastern boundary of the building to form a colonnade.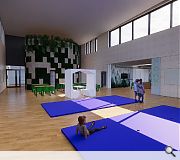 Clerestory glazing brings natural light deep into the plan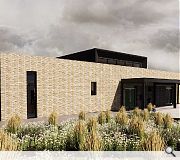 The western facade overlooks playgrounds
Back to January 2022