Calton Hill Observatory House reimagined as a holiday retreat
December 7 2021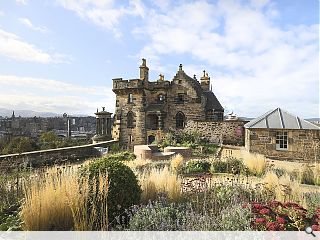 Collective, the centre for contemporary art on Calton Hill, has transformed Observatory House as a short-term holiday let to support its charitable work.
A joint project between Collective Architecture, who led the restoration of the 18th century James Craig building and a team of artists and designers the self-catering property now boasts a contemporary kitchen, furnishings and lighting.
Doubling as a residence for visiting artists as part of an international programme designed to welcome artists who have not previously shown their work in Scotland the house will also be opened to the public for events such as Doors Open Day.
Emma Fairhurst of Collective Architecture said: "Our work has been focused on making the interiors feel calm and understated, to allow the multiple breathtaking views and integrated contemporary art to take centre stage.
"In the renovation of the three-storey house, Collective Architecture has opened up new spaces sympathetically, creating a new larger kitchen and socialising space at upper ground and linking spaces to form a master suite on the top floor. New bathrooms have been created with an understated palette of honed marble and brass with inviting freestanding bathtubs.
"The top floor bath has a view looking over the National Monument and the new lower floor bathroom extension connects to a planted internal courtyard, that was previously a closed-off area of disused outhouses."
Observatory House is the oldest surviving building on Calton Hill, with open aspects in all directions across the city laid out below. It is the latest element of Collective to complete following delivery of a restaurant and gallery space in 2018.
Back to December 2021