Edinburgh's City Observatory reborn as arts destination
October 22 2018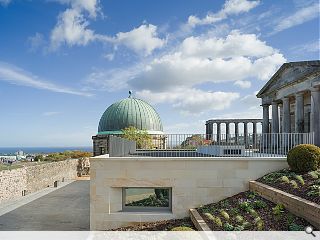 Edinburgh's City Observatory is to begin a new life as a spectacular arts venue following restoration of the A-listed William Playfair designed complex to form a lofty exhibition space, offices, a restaurant and shop.
Visual arts organisation Collective will open its doors on 24 November following its £4.5m redevelopment by Collective Architecture (no relation) and HarrisonStevens landscape architects, providing a suitably dramatic backdrop for a series of exhibitions.
The hilltop complex will offer free entry to the passing public and access to a new landscaped terrace, maximising the 360-degree views of the city below, including a restaurant called The Lookout which is partially cantilevered out from the hillside below.
Centrepiece however will be The Hillside, an exhibition and office space embedded within the hillside in front of the City Observatory. It is joined by a refurbished City Dome gallery space and a learning and education hall within The Transit House.
Collective director Kate Gray, commented: "After more than 5 years of fundraising and hard work it's incredibly exciting to be opening our doors to visitors at last. Collective is situated in a very special location on Calton Hill and we hope to offer our visitors an equally special experience, combining extraordinary art and architecture with panoramic views of the city.
"We now extend a warm welcome to residents of Edinburgh and visitors to the city and invite them to come up and see us."
The City Observatory has lain unused since 2009.

Photography by Tom Nolan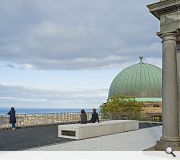 A panoramic viewing terrace will allow visitors to soak in views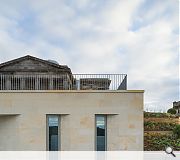 Harrison Stevens handled landscape design for the rooftop complex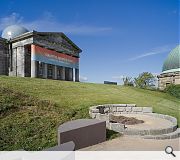 The revamped observatory will throw open its doors on 24 November
Back to October 2018