Another Glasgow bowling club lined up for flats
December 7 2021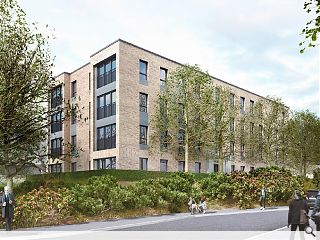 Abercromby Homes and Holmes Miller Architects are proposing to redevelop Kelvindale Bowling and Lawn Tennis Club in order to deliver 16 apartments, relocating existing tennis courts to vacant scrubland to the north.
This would enable the clubhouse to be refurbished and extended by CA Architects, with the remainder of the site to be landscaped in common with other sports grounds across the city which have pursued similar rationalisation strategies.
The linear site is roughly split between two landscaped 'platforms' cut into the hillside with a steep bank presenting to Kelvindale Road to the east. A new access road will be routed from here after an agreement was struck with the owners of a suitable strip of land.
This will enable the southernmost extremity of the site to be given over to a rectangular buff brick apartment block, framed by white render and precast panels in reference to the painted stonework of neighbouring properties.
In a design statement, the architects said: "The need for new housing and the need for capital to make the sports club sustainable justify this minimal impact of the four-storey block.
"The building has been designed to comply with the Gold Hybrid Standard with a highly insulated and air-tight envelope, enhanced ventilation and photovoltaic panels."
A financial contribution for the provision of allotments as part of the deal.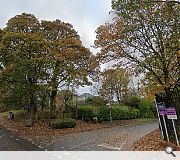 Mature perimeter trees will be retained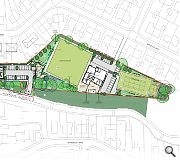 Tennis courts will be relocated to poor quality scrubland to the north
Back to December 2021