Landlocked terracotta leisure centre to rise in the heart of Ayr
December 6 2021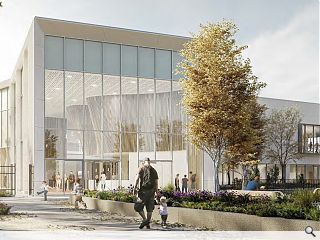 South Ayrshire Council with Hub South West Scotland has finalised plans for a statement leisure centre introducing sport to the heart of Ayr.
The lynchpin of a town centre diversification strategy the modern facility would replace the ageing Citadel, seeding a broader leisure-based economy as part of a broader regeneration initiative to offer a cinema, restaurants and other recreational pursuits.
Situated around the former Hourstons department store the LA Architects designed build will harness the C-listed building as a 'soft' entrance for anyone intimidated by a larger entrance to the landlocked site. Largely obscured by existing street frontages the centre will reach out to Alloway Street via a new public plaza with a double-height glazed facade framed in terracotta.
A glazed colonade will overlook softer garden landscaping to the south. Outlining the proposed design the applicants wrote: "...the form of the new building follows a simple and pared-back approach, expressing the 2-storey volume as an elegantly proportioned box, with a consistent parapet height and strategically placed openings.
"On the north, east and west, these openings are treated as punched holes in a largely solid façade, whilst around the south, the glazing is increased, again to break down the box, and bring light and animation to these public-fronting facades. Along the reception and café frontage, this is expressed as a glazed colonnade and to the entrance as a large framed opening drawing visitors into the building."
Clad in glazed and ribbed terracotta tiles the centre will sit on a brickwork plinth with roof level plant screened by translucent polycarbonate cladding.
The leisure complex is designed to complement the future redevelopment of the Kyle Centre to the north as a cinema complex.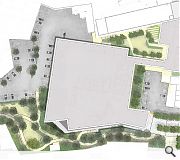 Landscaping nods to the sites past use as a large garden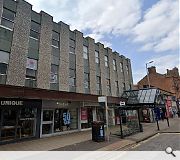 The Arran Mall will be demolished to make way for the build
Back to December 2021