Emerging leisure centre design set to transform Ayr town centre
April 20 2021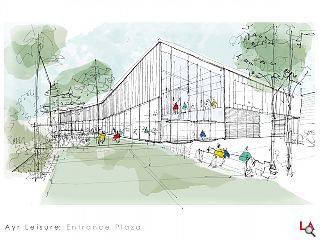 BAM Construction is to begin delivery of a £35.5m leisure centre in Ayr later this year following the appointment of Hub South West by South Ayrshire Council to lead the project.
Supplanting the existing Citadel Leisure Centre at Ayr Harbour the new facility will rise on the site of the vacant Arran Mall Hourstons department store in the town centre, with elements of the 1896 building to be incorporated into emerging designs.
Michael McBrearty, chief executive of hub South West said: "hub South West procured a design team, led by renowned architect Mike Lawless of LA Architects on behalf of South Ayrshire Council to deliver a Strategic Support Services Report, a feasibility study which outlines high-level design proposals.
"We have now started the process of public consultation for the project and look forward to hearing a wide-range of views on the design and opinions on what this facility could do for the local community."
With a remit to raise social, physical and mental wellbeing the public building will emphasise inclusivity to benefit people across South Ayrshire.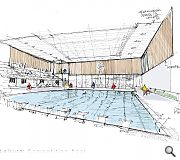 A competition grade pool will sit at the heart of the leisure hub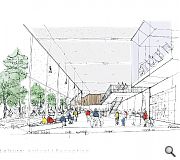 A generous arrival all and reception space will invite entry
Back to April 2021