Assynt home in the running to be named RIBA House of the Year
December 2 2021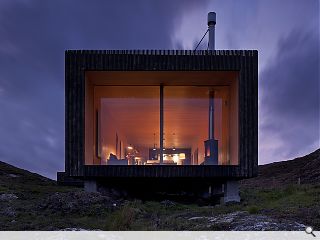 A sustainably built timber home in Assynt, Western Sutherland, is in the running to be named RIBA House of the Year 2021.
House in Assynt by Mary Arnold-Forster Architects was shortlisted alongside a Devon barn conversion as the fifth and sixth contenders respectively for the accolade during last nights episode of Grand Designs: House of the Year.
Built by Carbon Dynamic the 100sq/m Highland home was described as an 'unforgettable experience' in a judges citation that praised the seamless balance of nature, setting and space.
The judges said: "The quality of natural light and the well-balanced proportions of the spaces reveal themselves along the procession from the front door to the primary living space which culminates with a breath-taking view over the mountains.
"Setting aside the innovative off-site fabrication, the transportation and construction challenges and the harsh exposure of the site, this building is an exquisite study in volumetric space and light which has produced a house which is exactly tailored to the client's brief and is a joy to experience.
"House in Assynt is an exemplary model of sustainable and considered architecture which makes as minimal an impact on its environment as is possible and yet which leaves a lasting legacy for its occupants to enjoy."
Both homes go up against The Water Tower by Tonkin Liu; House on the Hill by Alison Brooks Architects; The Slot House by Sandy Rendel Architects with Sally Rendel and House for Theo and Oskar by Tigg + Coll Architects, which were revealed in previous episodes.
Awarded to the finest architect-designed house or extension to be built in the UK the prize winner will be revealed on Channel 4 at 21:00 on 8 December. Previous winners include Richard Murphy Architects for Murphy House in 2016.
Back to December 2021