Garden terrace to rise at B-listed Aberdeen villa
December 1 2021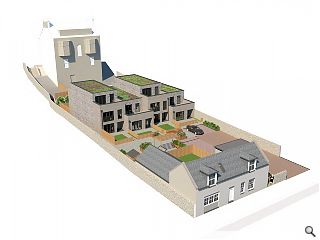 A B-listed villa in Aberdeen is the focus of efforts to deliver a collection of four terraced townhouses alternating between three and two storeys within its elongated garden.
Recently renovated to provide office accommodation the villa includes an eighties-era rear extension and car park which are now surplus to requirements and will be demolished to make way for the build. A granite coach house will also be refurbished to provide a fifth home accessible from Albyn Lane.
The terrace sits 18m from the rear of the listed building with northern and southern elevations faced in granite with matching grey multi-brick for the side elevations. Each home will overlook private gardens and communal amenity space.
In a project statement, Fouin+Bell Architects wrote: "This proposal is to demolish the existing rear extension, create a garden and form four terraced houses providing modern residential accommodation in the vast space between the villa and its coach-house on Albyn Lane. The area between the buildings was originally a very large formal garden for the listed villa which included a central linear glasshouse, such a garden is no longer appropriate for its current and future use as office space."
A pedestrian route to Albyn Place will be built as part of the work.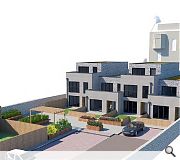 The number of proposed homes have been reduced from 11 following conversations with planners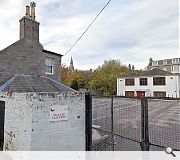 This unsightly 1980s extension will be demolished
Back to December 2021