Outdoor classroom inducts students into construction
November 24 2021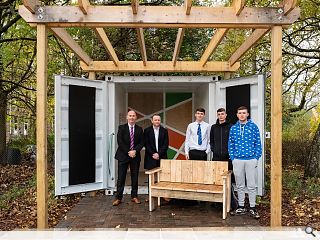 Hub West Scotland and BAM Construction have led the delivery of an outdoor classroom for Parkhill Assisted Special Needs School, Glasgow, to instruct students in the basics of construction.
Working with architects, engineers and quantity surveyors pupils from St Andrew's RC Secondary helped to build an outdoor learning and seating area that doubled as a practical work experience exercise.
Angeline Robertson, partnerships director, hub West Scotland said: 'Our aim is to maximise the design period of projects to get local people the right support to enable them go on to employment during the construction stage of our projects."
Hoskins Architects added: "We are delighted to have been part of the team that developed and delivered this innovative course, providing young people with hands-on experience in the design and construction of a building that will benefit their local community. The students participated in a series of workshops culminating in the construction of the building, learning about the key stages of a project, the various roles and collaboration involved along the way."
The project forms part of a broader community benefits package associated with the £60m North East Hub Health and Care Centre in Parkhead.
Back to November 2021