Parkhead Health Hub to address inequality and hospital pressures
January 15 2021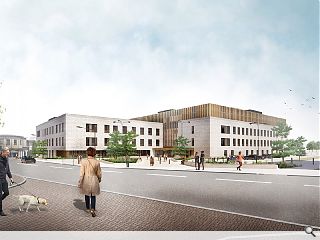 The largest health centre ever proposed in Scotland has taken a significant step forward with the submission of plans for a combined health & social care hub, library and public square at Salamanca Street in Parkhead, Glasgow.
The Parkhead Hub has been designed by Hoskins Architects, alongside ERZ, Currie & Brown and AECOM, to furnish the NHS with a unified point of care, relieving hospital pressures in the process.
Standing in one of the most deprived areas of the country the hub will pool a range of care services to reduce inequality and establishing a new civic presence.
Conceived as an offset double courtyard topped by a 'crown' of metal (potentially gold) fins in contrast with a solid brick base with a primary entrance off Duke Street at the point of intersection between both courtyards. This connects to a central spine and direct access to a public cafe and library.
Explaining this design concept Hoskins Architects wrote: "The architectural intent is that the brick be simply detailed with minimal numbers of window types to keep the costs for the facade to a minimum and allow an appropriate budget for the crown which reveals itself when the exterior brick skin is interrupted at the main entrance, cafe and within the courtyards. Internally the building is softer and warmer with timber back boxes to the curtain walling and timber top rails to the balustrades."
As a first step, the current Parkhead Hospital will be demolished with a smaller health centre and clinic remaining operational throughout.To be built in phases the new health hub is expected to fully complete by 2025.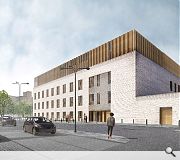 A dedicated staff entrance will also be provided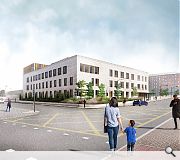 Improved public realm will connect to historic Parkhead Cross
Back to January 2021