Landscape-led Fife courtyard & cluster homes demote the car
November 18 2021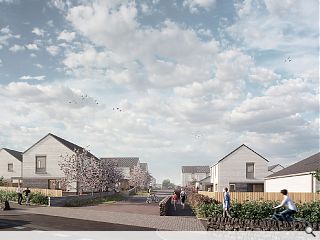 A detailed planning application for 44 affordable homes on grazing land to the north-western edge of Leslie, Fife, has been brought forward by Kingdom Housing Association with their delivery partner Campion Homes.
Inspired by the design approach taken at Polnoon, East Renfrewshire the landscape-led build by Fraser/Livingstone Architects, horner+maclennan landscape architects and Dryburgh Associates will prioritise people over vehicles by treating shared streets as an extended living environment.
Two new access roads will be routed off Kinross Road where a new bus stop will be provided, linked by a pedestrian path to the village green and shared amenity space to the north. A new cycleway will also be formed to the southern boundary to encourage active travel.
The mix of courtyard and cluster homes eschew linear patterns of development to enable a greater proportion of land to be given over to public realm and green infrastructure.
In a press statement, Fraser/Livingstone Architects wrote: "The new homes are composed around a placemaking ethos with patterns of gathering, sunshine and permeability. A shared surface public realm of connected streets, courts and amenity spaces is proposed, reducing vehicle speed, and forming a more pedestrian-friendly, safe, attractive, sustainable community of new homes.
"Homes are then clustered together and accessed off shared intimate courts. Linear house footprints are located to the north-eastern corner of each plot allow living spaces to open out to the south and west into generous sunny gardens. End gables are then presented to the boundaries of the site, responding sensitively to the edge of settlement condition, and maximizing visual and physical permeability through the development.
"A new central shared square is formed at its heart, with links north to expansive open amenity space, offering play areas, communal allotments and a community orchard. A new sustainable community is formed, with homes, gardens, courts and streets connecting out to the green backdrop of Fife's Lomond Hills."
In all 100 parking spaces will be provided, set back from main routes where possible to present greater planting and landscaping to the public realm.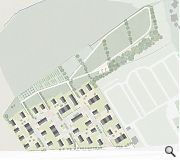 A mix of detached and semi-detached homes are arranged around a series of clustered courtyards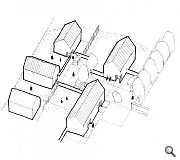 Linear frontages are replaced by domestic courtyards to prevent repetitive rows of driveways and parked cars from forming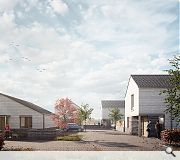 Primary elevations utilise a grey brick base course complemented by lighter buff brick above. Roofs will be formed from dark pantiles with integrated solar panels to the south and west
Back to November 2021