Replacement Earlston school to build community cohesion
November 17 2021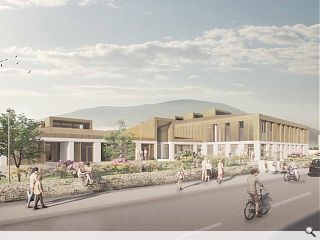 Scottish Borders Council is continuing their school investment programme with the replacement of Earlston Primary and nursery with a new community campus.
The civic campus will combine a new school and nursery with a library and multi-use community space set within an Oobe designed landscape for play and public use with enhanced connections to the High Street.
Led by Stallan-Brand Architects the new school will sit in the heart of the market town, employing a tandem build solution to permit continuity of education while work takes place. Split between health and education wings behind a unified facade the campus adheres to the typical proportions of one and two-storey housing in the town, with pitched roofs and light wells inspired by nearby Hume Castle.
Built to a standardised grid the campus uses matt bronze and gold decorative fretwork panels and metal standing seam cladding on upper floors, meeting the ground with large format pre-cast concrete panels.
In a concept statement, the architects wrote: "The proposals for Earlston take cognisance of recent events and changes in patterns of use such as social distancing, one way systems and outdoor spaces and the importance of local support and information.
"While we cannot predict the future we can ensure that what we build today places community support and inclusion at the heart of Earlston."
As part of the works, a new access road will be built to the south by Eildon Housing Association to serve a residential development that is set to commence next year.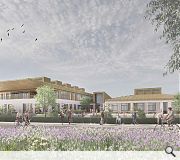 Building on the site of the current school will ensure continuity of education in the heart of the community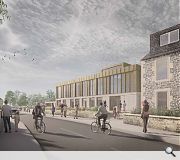 Improved connections will be established with the High Street
Back to November 2021