Angus Council press ahead with contentious Edzell council house build
November 8 2021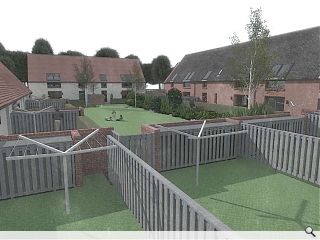 A retirement complex in Edzell is to make way for 21 affordable homes following a protracted delay after Angus Council opted to press ahead with the scheme despite local opposition.
Planning consent was granted in May for Inglis Court on the proviso that homes be made available solely for people on modest incomes in perpetuity but was put on hold after a petition calling for the sites continued use as sheltered housing attracted 750 signatures.
That prompted the authority to reappraise its options including a possible sale of the site, retaining it as is or passing control to a private company but councillors unanimously agreed to proceed as planned. This would see a variety of homes finished predominantly in wet dash rendered masonry clustered around internal courtyard gardens with feature stained timber cladding employed for projecting gables and porches.
In a statement Kate Cowey, service leader for planning & communities at Angus Council, wrote: "The proposal is in accordance with the development plan as it is compatible with the locational criteria for residential development identified in the plan and as it does not give rise to unacceptable impacts on amenity, natural and built environment, road safety or infrastructure, subject to the stated conditions. There are no material considerations that justify the refusal of planning permission contrary to the provisions of the development plan."
The council housing plans have been drawn up by Angus Council's property department.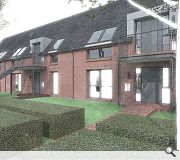 Front doors of all the houses will be accessed via the public realm extending around the external perimeter of the courtyard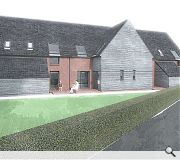 Stained timber cladding will be employed for projecting gables
Back to November 2021