New home to squeeze into tenement-bound Inverleith site
November 5 2021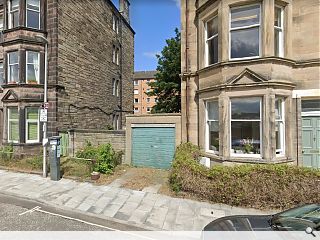 Wiszniewski Thomson Architects have advanced revised proposals for an infill home sandwiched between two tenement gables at 6 Bangholm Terrace within the Inverleith Conservation Area of Edinburgh.
The former bleaching green has been left to become overgrown, presenting an opportunity for a local business owner to deliver a one-bedroom home on the site, which enjoys open aspects across Heriot's Rugby Club.
Current proposals call for a 6x5.5m home set back from the tenement gables above the height of the parapet of an existing garage with new walls offset from adjacent facades to deliver a clear break between new and old.
In a statement, the architects wrote: "The central element has been simplified to appear calmer and more composed adjacent to the articulated and repeating bays of the adjacent tenement blocks. The dark grey glazed door and window features of the new building are grouped together to echo the width of the tenement bays.
"The triple sliding window element is a response to the triple windows to each traditional bay. The grouped element of doors and windows is set into masonry element of sandstone, carefully chosen and to compliment the tone and colour of the adjacent tenements."
Reclaimed stone will be used to construct a rear boundary wall framing a small courtyard garden off an adjacent study with offset larch boards employed to provide privacy.
Detailing the rear approach the architects add: "A pop-out bay at the upper floor has a side facing window which at night will allow light to be shed onto the adjacent rear wall. No windows will overlook the back green but the larch screen and pop out bay are intended as softening gestures that will provide a sense of occupation and domesticity, important to the character of tenement back greens."
A planted roof will be seeded with local flora with an inset balcony to the front serving as an extension to the open plan living room, opening up views of the city to the south.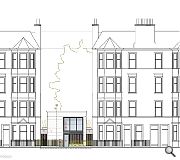 The new home will be built from sandstone behind a dark stained timber screen
Back to November 2021