M&S alight on Largs town centre with a set-back food hall
November 8 2021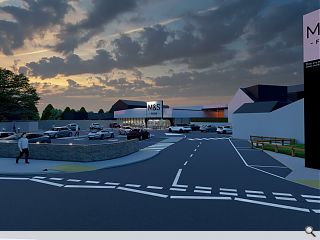 Marks & Spencer has partnered with Westquarter Developments for a major retail development in the heart of Largs to meet evolving customer requirements.
The town centre build would sweep aside a conglomeration of workshops and offices to free up a 0.35-hectare site for a 9,000sq/ft food store with an extended product range and plentiful car parking in an accessible location.
Fronting 123-125 Main Street at its southern edge the project seeks to augment rather than supplant existing retail provision in the seaside town with the new supermarket set back behind a new wall and expansive car park offering a minimum of 47 spaces.
In a design statement, G1 Architects wrote: "Building materials, articulation and features with a mixture of glazed tile, smooth cladding and glazing divisions all working to reduce the perception of the overall scale.
"Simple clean lines and a strong entrance feature set the tone for this proposal, ensuring, through architectural hierarchy, effective orientation from the enhanced public realm areas to the main access."
A separate service yard will be provided on-site with access provided via a new junction off Main Street.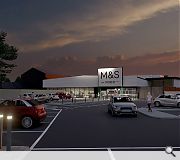 An acoustic fence will help to shield a side service yard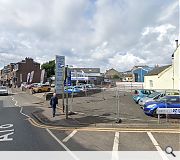 An ad-hoc collectionof vehicle garages will be sept aside for the new store
Back to November 2021