Community-owned homes delivered in Fort Augustus
November 3 2021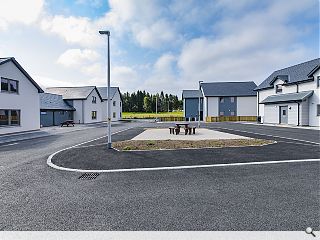 Kearney Donald Partnership, acting on behalf of Fort Augustus and Glenmoriston Community Company (FAGCC), have delivered 12 new homes for local families as part of a redevelopment of the Glebe area of Fort Augustus.
The £3m social housing initiative near Loch Ness opened in late October and boasts the latest green energy technology including air source heating and locally sourced stone from an adjacent borrow pit. Incorporating cycle stands to encourage active travel the landscaped grounds have been planted with over 500 trees and shrubs including fruit trees and soft fruit bushes.
FAGCC chair Harry Whiteside said: "Good quality, affordable housing is essential to help attract and retain people in Scotland's remote and rural communities, so it is fantastic we have been able to complete this project of 12 homes to such a great standard, and with sustainability in mind. We are very grateful for all of the generous support from our funders which has enabled us to invest locally."
The development was made possible by a £150k loan from the Bank of Scotland with remaining capital provided by the Scottish Government, SSE Renewables and wind farm community benefit funds.
Photography by Linda Aitken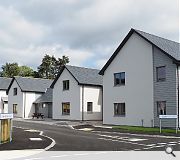 The homes have been built on an open field towards the southern end of Fort Augustus
Back to November 2021