University of Edinburgh to revitalise A-listed lecture halls
November 2 2021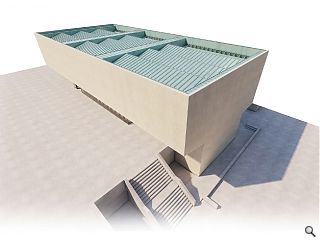 The University of Edinburgh with Oberlanders Architects have developed proposals for a replacement roof to A-listed lecture halls at 40 George Square, inclusing the upgrade of mechanical and electrical systems, installation of acoustic ceilings and improved access.
Designed by Robert Matthew Johnson Marshall in the 1960s the modernist block will be subject to an asbestos removal programme, clearing the way for replacement of a dilapidated copper roof described as being in very poor condition.
Extending a programme of repairs to similar copper roofs across the city centre campus the works will retain use of copper after competing Sarnafil products were discounted on the grounds of lifespan.
In a statement Oberlanders observed: "The existing roof finishes, comprising standing seam copper sheet, would be stripped from all pitches, gutters and upstands, along with the associated glazing. This glazing will not be reinstated as it constitutes a safety hazard and provides no lighting within the theatres. The roof profile will be retained, however will be fully covered with the copper standing seam."
Wood cement boarding will also be removed as part of the work, replaced with 150mm insulation where possible. Access to the roof for maintenance will be externalised to release theatre space on the ends of theatres where internal ladders are presently housed.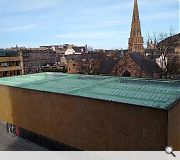 The copper roof has reached the end of its usable life, presenting an opportunity for broader upgrades
Back to November 2021