SEC rolls out the red carpet with 'gateway' expansion drive
November 1 2021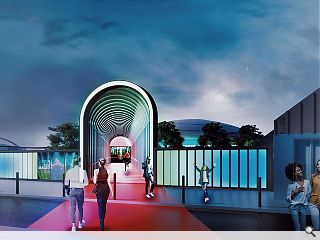 A major 'gateway' expansion of the Scottish Event Campus (SEC) in Finnieston, Glasgow is on the cards with the submission of detailed plans by Holmes Miller Architects.
Focussed on arrivals infrastructure the work would see an ageing covered walkway from Exhibition Station reclad to provide enhanced lighting and surfaces with a section crossing the rail line to the north replaced by a new structure, a dedicated arrivals hall and a cycle ramp.
The changes will permit enhanced screening of visitors and improve first impressions through a new 'front door' from Minerva Street, retaining the distinctive arched canopy and resin 'red carpet' floor.
In a statement Holmes Miller wrote: "Some 30 years old, the existing walkway is tired, but much loved by Glaswegians. The distinctive arched aesthetic of the canopy and bright red painted floor are synonymous with visits out to the SEC - we see these elements as historic features that should be embraced and enhanced.
"The current entrance bridges the railway line, and exists as one section span. The new proposal replaces this single span with a new section, and an "amplified" version of the arched canopy, with an illuminated threshold arch."
Culminating in a 'sky lobby' offering access to the SEC and the low-level plaza adjacent to the Hydro, the translucent building will employ aluminium cladding, curtain wall glazing and polycarbonate panels to convey a point of 'transition'. This will also permit movement of heavy goods vehicles below, connecting two adjacent service yards which are bisected by the present walkway.
The structural timber arrivals hall will employ a biophilic design with living walls and acoustic wall panels and baffles to manage decibel levels with an emphasis on providing a calming environment flooded with natural light.
Back to November 2021