Major new exhibition and conference facilities to bolster the SEC
June 22 2021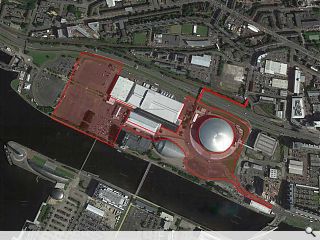 Glasgow City Council has granted consent for a significant expansion of exhibition and conference facilities, as well as providing for a 200-bed hotel and energy centre, at the Scottish Events Campus off Congress Road.
Planning permission in principle has been awarded for 5 years and includes an upgrade of a pedestrian walkway linking the SEC to Exhibition Centre Station.
In their decision notice planners granted consent with several provisos, including that the walkway refurbishment is carried out in advance of any new reception and foyer facilities being built.
All in all exhibition and conference facilities will not exceed 38,000sq/m with a further 1,600sq/m of associated commercial space.
In granting consent planners wrote: "In the opinion of the planning authority this level of floorspace and mix of uses is considered appropriate in terms of the policy designation of the site in the statutory development plan."
Valued at between £150-200m the project has been greenlit for the campus to remain competitive with rival venues at home and abroad.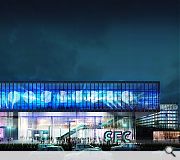 A new front door to Congress Road will create a less introverted campus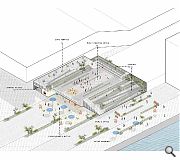 An elevated muklti-purpose outdoor space could rise to the west, connecting a first-floor cafe to the Clyde Walkway
Back to June 2021