COP26 zero-carbon house showcases circular design to the public
November 1 2021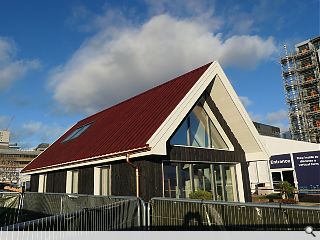 Urban Union, part of the Robertson Group, is inviting the public to experience circular design at home through the delivery of a zero-carbon timber frame building at Anderston Quay to coincide with the COP26 climate conference.
Developed by Beyond Zero Homes, a collaborative grouping of 20 organisations across the housebuilding sector, the demonstration home illustrates how affordable homes can be built with little impact on the environment using readily available materials and skills.
Led by Peter Smith of Roderick James Architects the COP26 House foregoes the use of concrete and steel wherever possible in favour of locally sourced timber such that more carbon is stored than released during construction. High levels of insulation also limit the requirement for heating, which is provided by electric infrared panels that warm objects and people directly rather than heating the air.
Smith said: "It is vital that the houses we are building now are truly sustainable, being low carbon in construction and use. But with the COP26 house, I wanted to demonstrate that truly sustainable, ecologically responsible buildings can also be beautiful, comfortable to live in and low cost to build using locally-sourced materials."
The one-bedroom home delivers 70sq/m of internal floor space including a mezzanine studio with an estimated guide price of between £1,800 and £2,500 per square metre to build.
Urban Union managing director Neil McKay adds: "The construction industry has a central role to play in helping to reduce the world's carbon emissions and the COP26 House demonstrates that many of the solutions needed to fight climate change already exist, we just need to put them into practice.
"Everyone wants a comfortable home and by building the COP26 House we've shown they can have that while protecting the environment at the same time. Together with our Beyond Zero Homes partners, we want to welcome as many people as possible to the house so they can see this for themselves."
Open to the public at various points throughout the two-week event the house sits within the Sustainable Glasgow Landing events space overseen by New Practice. Following COP26 the home will be dismantled and dismantled and rebuilt as part of a development of affordable homes near Aviemore.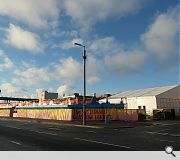 The COP26 House sits within the Sustainable Glasgow Landing events space
Back to November 2021