Perth estate regeneration delivers new & refurbished homes
November 1 2021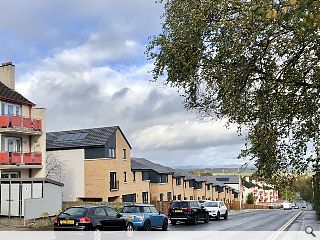 Caledonia Housing Association has delivered 13 new family homes for affordable rent in Perth as part of a broader regeneration of Newhouse Road.
The £4m project saw 72 properties refurbished and a further 30 flats demolished to make way for a mix of detached and semi-detached townhouses with private parking and gardens.
Alan Nairn, chair of Caledonia's management board, commented: "Regenerating homes and communities is an important objective for us as a housing association. We aim to modernise and maintain our existing housing stock and provide high quality, energy-efficient affordable housing for our tenants."
Designed by ECD Architects the steeply sloping site demanded stepped housing to minimise the number of retaining walls, establish a strong building line and retain pedestrian access to rear open space.
Bookended by larger properties the brick-built homes contrast with the white render finish of adjoining refurbished properties which boast new kitchens, bathrooms, windows, heating and doors.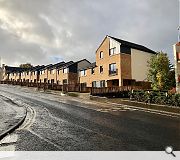 Existing tenants were engaged throughout the process
Back to November 2021