Dargavel Village phase 2 to deliver a further 196 homes
October 26 2021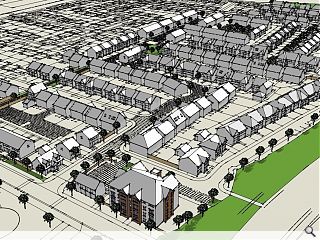 Stewart Milne Homes are pushing on with phase two works at Dargavel Village, Bishopton, a giant mixed-use development to reclaim brownfield land at the former Royal Ordnance Factory site in Renfrewshire.
Constituting 180 homes and 16 flats the project, which includes 62 properties classed as affordable, backs onto phase one as well as Dargavel Country Park, the Craigton Burn and a planned primary school.
Fronted by a four-storey 'gateway' apartment block the estate will position terraced housing to the Western Link Road, presenting a linear frontage to the tree-lined boulevard. Interior properties include 'corner turner' designs with a dual elevation overlooking a pocket park with varied building orientations and juxtaposed styles to create visual interest.
In a statement, the housebuilder wrote: "The phase 2 development parcel provides an exciting opportunity to deliver a housing development with strong character and a real sense of place. The detailed design proposals employ sound urban design principles with a disciplined and relevant approach to architectural form and materials palette.
"All aspects of the design draw from the best of the immediate context and respect as appropriate Scottish vernacular to create a place with a distinctive sense of place."
The proposed materials palette includes reconstituted stone and facing brick with slate-effect roof tiles.
Dargavel Village is the largest community growth area in the country, an area of land identified by the government for large scale urban expansion that cannot be met by established built-up areas, delivering 4,000 homes across 1,000 hectares.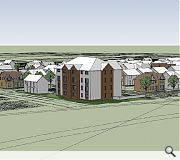 Homes will have access to a new primary school, library, community centre, woodland park and leisure facilities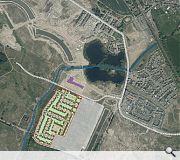 Five housebuilders are active on the BAE Systems site, which has been opened up for development by a 1.45km access road
Back to October 2021