GSA report recommends a 'faithful reinstatement' of The Mackintosh Building
October 22 2021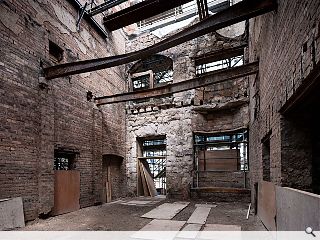 The Glasgow School of Art has shared recommendations that the best option for the future of the Mackintosh Building lies in a 'faithful reinstatement' following the completion of a Strategic Outline Business Case (SOBC) which concluded: "The case for a landmark development that not only reinstates, but builds on, the illustrious heritage of the original Mackintosh building is overwhelming."
The report, authored by a hub-West led consultant team including commercial real estate agent Avison Young, examined the full range of actions from a bare minimum approach to green lighting a new build either in-situ or elsewhere on campus. That process saw three viable options shortlisted; faithful reinstatement, new build or a 'hybrid' model incorporating elements of both - all of which were weighted against a 'do minimum' approach.
The preferred option would see the Mackintosh masterpiece rebuilt as close to the original as practicable while taking advantage of the opportunity to embrace digital technology and sustainability. This would serve to both enhance the student experience as well as maximise heritage value and spur regeneration of Sauchiehall Street.
Outlining the full scope of works the report describes: "... a full reinstatement of the Mackintosh Building including retained/re-use of the remaining structure. This includes the re-use of the existing foundations and remaining stone/masonry external walls and remaining internal walls and floors where possible. The existing external walls will be supported by a new temporary facade retention structure, if necessary, to allow the construction of a new internal frame which the external walls will be tied back into to create a new solid structure.
"Iconic spaces, such as the library, board room, director's office, Mackintosh Room, lecture theatre, Studio 58, the Hen Run, loggia, museum and Studio 11 will be reinstated together with all the other spaces including studios. This option also takes account of being compliant with the latest building regulations."
The Mackintosh Building remains cordoned off amid stabilisation works by contractor Reigart to preserve as much fabric as possible following two devastating fires but work to deliver the new vision is not expected until 2027 at the earliest.
Photography by McAteer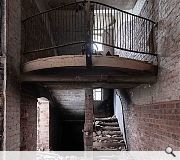 Debris and rubble has been carefully removed for storage off-site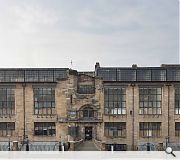 Detailed reinstatement plans exist from the time of the first fire
Back to October 2021