Revised EuroPark plan to deliver 2,350 parkland homes along the M8 corridor
October 22 2021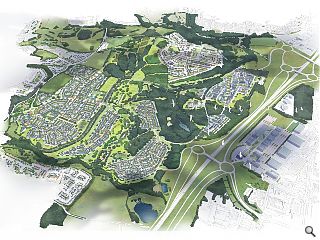 Plans for major residential development adjacent to the Eurocentral and Maxim business parks on the M8 corridor have been scaled back, reducing the number of homes from 2,600 to 2,350.
Developer Orchard Brae has removed all planned development north of Calderbank to accommodate the reduction following a community consultation process, as part of ongoing efforts to deliver the EuroPark development. That land will now be given over to parkland, increasing the proportion of green space available across the masterplan area to 66% or 162.4 acres.
A mix of private, affordable and social housing is proposed along the Monkland Canal and Calder Water with a new country park at its heart, including nature trails and improvements to surviving woodland. Other elements of the planned scheme include a UEFA compliant sports ground for use by Gartcairn FC as well as a community centre, home working hub and healthcare facilities.
A communal electric vehicle charging base, car club and public transport will also be developed to encourage sustainable travel.
Stephen Tucker, master planner and spokesperson for Orchard Brae, said: "Our plans reflect the site's strong inherent sustainability and our intent that it becomes an example of zero net carbon development for others to follow.
"Our green master plan, which sits at the heart of our proposals, puts great emphasis on retaining green space for the public, creating an outward-looking, nationally important parkland community that enhances and embraces its environment, breathing new life and diversity into underused and somewhat neglected land."
Commerical elements of the Barton Willmore masterplan include a petrol station, hotel and restaurants.
Back to October 2021