Off the wall earth-sheltered Arran home to replace local Post Office
October 21 2021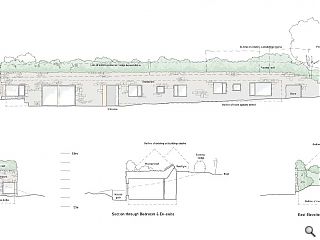 A former Post Office at Shannochie on the Isle of Arran is to be replaced by a modern home under innovative plans by Alastair Howe Architect.
The converted cottage will be demolished, retaining only an Edward VII post box embedded within a wall or pillar adjacent to an existing telephone booth. In its place would rise a single storey earth-sheltered property would sit below a planted roof, taking advantage of the natural fall of the land to present just four roof lights projecting 1m above ground level as seen from the road.
To the rear, the south-facing elevation would take the form of a natural stone wall emerging from the ground and extending the full length of the building before falling back into the ground, punctured by windows and a recessed entrance looking out onto a semi-sunken terrace.
Internally a rear ramped passage provides access to bedrooms off large landings daylit from above.
In a design statement Howe wrote: "The south end of Arran has a fairly wild and remote character. Open views to the sea over heath and farmland are interspersed with populated valleys and isolated buildings along the road.
"... the existing buildings on this site have an unfortunate, if interesting past which has resulted in their inexorable deterioration to their current condition. The proposal to remove the existing structures and to create a new, highly efficient modern dwelling and restore the open views across the landscape is one that we believe should be welcomed."
The finished property would be used predominantly as a family home but also made available for short term lets.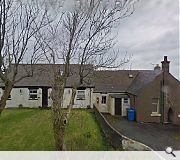 The heavily altered Victorian cottages are in poor condition, with low ceiling heights, no insulation and dangerous stairs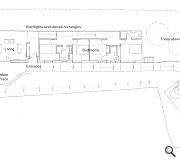 The linear home will be partially buried into the site
Back to October 2021