Student 'Town House' nets Grafton the 2021 RIBA Stirling Prize
October 15 2021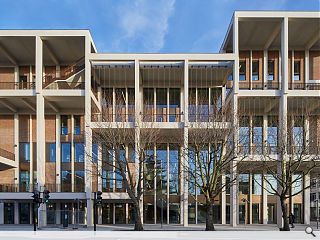 Grafton Architects have picked up the 2021 RIBA Stirling Prize for their work delivering a new education building, billed as a new model for learning, on behalf of Kingston University London.
Resting behind a civic collonade of reconstituted stone stretching 200m along the street the dramatic addition to the university estate prioritises generous public realm, with a sequence of terraces and gardens permeating the facade to reveal views of the interior to passers-by and permit the passage of light and air.
This generosity extends to interior spaces with visitors presented with a public forum upon entering, a vertical space defined by voids and staircases which connects to an amphitheatre. Doubling as a space for socialising and study the volume enables a library and theatre to co-exist through high acoustic standards.
Jury chair Lord Norman Foster commented: "Kingston University Town House is a theatre for life – a warehouse of ideas. It seamlessly brings together student and town communities, creating a progressive new model for higher education...
"In this highly original work of architecture, quiet reading, loud performance, research and learning, can delightfully co-exist. That is no mean feat. Education must be our future – and this must be the future of education."
Grafton Architects, added: "We imagined a place where students would feel at home. This building is about people, interaction, light, possibilities. It is about connecting to the community, the passer-by, an invitation to cross the threshold; a three-dimensional framework with layers of silence and layers of sound. Space, volume and light are the organisers.
"The building edges are not boundaries but active gathering spaces, terraces, galleries. Being outside under the big sky is always just a few steps away. Kingston University gave us this educational vision which we translated into a spatial open matrix."
Built by Willmott Dixon Construction the Town House augments the civic environment around the Grade II listed Surrey County Hall opposite with fair-faced blockwork, a polished ground floor concrete slab, oak flooring and plywood panelling.
Images by Ed Reeve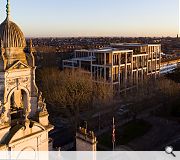 A 200m long reconstituted stone colonnade embraces the street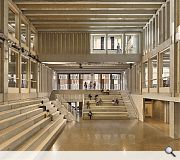 The concrete and timber lined volume acts as a multi-purpose space for learning and events
Back to October 2021