Barclays complete riverside Glasgow campus
October 15 2021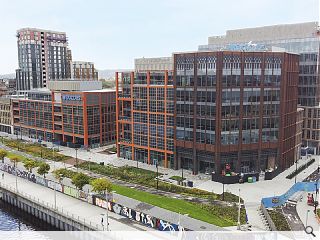 Barclays has unveiled its new Glasgow campus on the banks of the River Clyde in Tradeston, the first element of a larger mixed-use revitalisation of the area.
Home for up to 5,000 staff working across the bank's technology, operations and functions teams, the city centre hub seeks to bring staff closer together to improve innovation and collaboration by working with local technology start-ups.
Stretching to 500,000sq/ft across five buildings designed by Stallan-Brand and Halliday Fraser Munro the campus fronts a new landscaped active travel corridor incorporating space for community events as well as a curated space dubbed 'The Street', where social enterprises and entrepreneurs can showcase and sell their products to the public.
Paul Stallan told Urban Realm: "The Clyde Place project in Tradeston has realised the largest mixed-use redevelopment and regeneration initiative within the City Centre within one development cycle. This new urban quarter is already providing significant economic benefit, wider urban renewal and employment at a location that was in a derelict condition for over fifty years.
"Stallan-Brand working initially with Drum Property oversaw the locations development framework which informed all urban, townscape and architectural moves going forward. Key features like the removal of the five-lane road between the buildings and the river, the creation of a new public square and the incorporation of the two listed buildings were important strategies.
"Barclays Bank brought transformational thinking to the site with an inspired approach to placemaking and contributing to the life of the City. L&G also brought Glasgow's first Build to Rent offer to Scotland to add a residential component to what is slowly becoming not just a place but a destination."
As part of the work, two historic structures at Clyde Place House and the BECO Building have been restored for public use, housing a community exhibition space telling the history of Clyde Place and a street food market for staff and visitors.
Back to October 2021