Compact arts hub to create new opportunities for Crieff
|
Send to friend
October 14 2021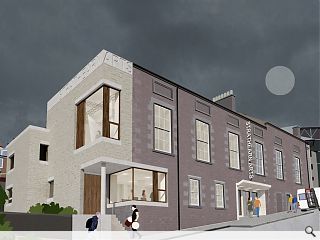 A creative arts hub in the Perthshire town of Crieff has become the focus of efforts to stimulate a wellness-centred post-Covid recovery with plans for significant improvements and expansion.
Strathearn Arts have engaged Fraser/Livingstone Architects to refashion its historic auditorium to meet the needs of a diverse range of arts from theatre, comedy and music to film, dance and workshops.
Dating from 1816 the town centre venue has established itself as a centre for the local creative economy, hosting a variety of dinners, concerts and lectures but lacking the flexibility to meet the needs of diverse users.
To remedy this and meet future needs a series of alterations are planned including opening up views to the surrounding countryside via a gable extension and a possible combined reception, ticket-office, café and bar facility on Comrie or Lodge Street.
In a project update, the practice wrote: "Crieff itself is a lovely, couthy toon – the sort of place likely to gain from a post-covid refocus on places that are liveable and sociable, rather than big-city-commutable. Strathearn Arts have already shown an implicit understanding of all these opportunities; but, equally, their building has shown itself capable of accommodating the sort of diverse arts and social uses these opportunities bring.
"This project brings these strengths up-to-date, meeting and beating contemporary requirements for access and the touring aspirations of diverse theatre, music, dance, comedy and other acts."
A programme of consultation, business planning and fundraising will take place to set the parameters for any interventions.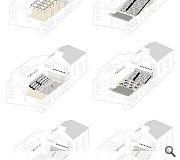 A revanped auditorium will provide flexibility for a range of productions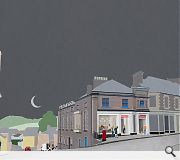 Strathearn Arts is a charitable organisation dedicated to improving peoples lives through culture
Back to October 2021