Barclays draw from history ahead of Glasgow campus unveil
January 26 2021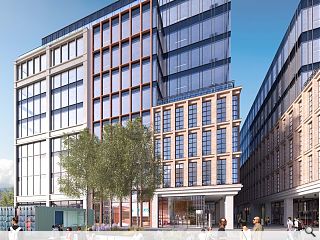 Barclays has taken inspiration from Glasgow's rich mercantile history to put its new city campus streets ahead of the recent past.
Establishing the riverfront complex as more than just an office park five individual buildings will be named in honour of the history of the area. Clyde Place House, Tradescroft, Windmillcroft, Wellcroft and Grays Hill will all frame a new public space focussed on Clyde Place Square, an open space reserved for community and events use.
Council leader Susan Aitken said: "Glasgow cherishes its heritage. We live with it in our everyday lives. The street and building names of Barclays' Glasgow Campus have been chosen well, reflecting Tradeston's role in our history and development. We can all look forward to the campus contributing to Glasgow's economic renewal, and becoming a symbol of the regeneration of both Tradeston and the ongoing return of life to the Clyde."
Scheduled to open later this year the Barclays campus will deliver over 500,000sq/ft of office space designed by Stallan-Brand and Halliday Fraser Munro.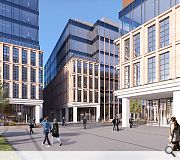 New public spaces will work with the established city grid
Back to January 2021