Urban Realm explores roadmaps to our post-covid future this autumn
|
Send to friend
October 14 2021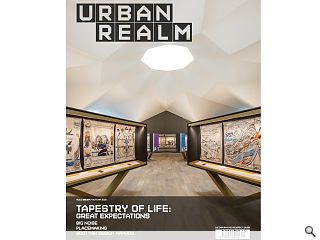 As life resumes, we are beginning to see the first hints of a post-pandemic economy and it is Galashiels that is leading the way with The Great Tapestry of Scotland Gallery, as documented in the newly published autumn edition of Urban Realm.
The Page/Park building takes centre stage on the High Street as part of a plan by the Scottish Borders Council to knit the community together. Its aims mirror that of a sister gallery at the other end of the Borders Railway, The Fruitmarket Gallery in Edinburgh, just refitted by Reiach & Hall which forms the opposite pole of this creative realignment.
Together these cultural spaces show that it's not retail leading the way out of a crisis but culture as a renewed focus on wellbeing causes us all to reassess what is truly valuable.
The shift from material wealth to wellbeing needs to be heeded in other sectors too, notably, housing as at Edinburgh's planned Garden District, as we warn that such developments cannot play the numbers game anymore.
A similar story plays out in student housing where a frenzy of development has long stoked fears of inappropriate development. We assess the future of a sector in flux.
It's been a dark 18 months but the best work continues to shine bright. Join us as Urban Realm continues to illuminate the issues that matter.
Back to October 2021