Mixed Edinburgh apartment/office build addresses home working trend
October 11 2021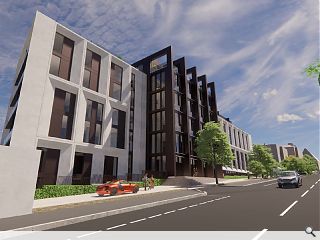 Square and Crescent, specialists in converting redundant commercial buildings into homes, have opened a virtual consultation for Finance House, Edinburgh.
Delivering a mix of 152 apartments and office/co-working space the plan would see a 1978 rear extension demolished in favour of a stepped residential development in response to the adjacent Learmouth Court, following a similar proposal for nearby Orchard Brae House.
An active travel route will connect Learmouth Gardens to Orchard Brae with Learmouth Crescent fully completed as envisaged in the 1950s before later development sliced the street in half. Perpendicular access to the busy main thoroughfare of Orchard Brae is also provided.
Dating from the 1960s Finance House is an eight-storey block occupying some 0.8 hectares of land with Morgan McDonnell Architects and RankinFraser landscape architects tasked with revitalising the vacant site. The team will retain the main eight-storey building, adding glazed chamfered extensions to the north and south to soften its impact.
A new build L-plan residential element to the rear will extend the current crescent with a variety of gardens, seating and play areas responding to a substantial level difference of up to 5m across the site including walls doubling as long benches and a central park for games and picnics.
Outlining their design strategy the applicants wrote: "... the proposal is conceived as an exercise in connectivity and re-activation of a site that is currently perceived as a volume isolated from its surroundings. The proposed split residential layout will greatly improve its permeability and will fill the gap of an urban context that is predominantly residential.
"A contemporary and dynamic facade with less horizontal expression will be installed to respond to the site and surroundings whilst upgrading the building to modern standards and to maximise the thermal insulation of the future flats."
An online interactive chat with the developers will take place on Wednesday, 13 October between 16:00 and 20:00.
Back to October 2021