Tesco Bank join efforts to boost the livability of Edinburgh Park
October 11 2021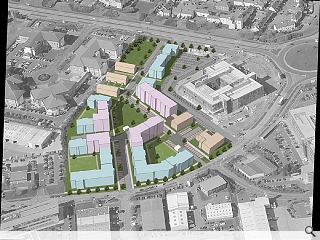 Tesco Bank is staging a pre-application consultation over plans to create around 300 new homes, retail, commercial space and a nursery at South Gyle Broadway, Edinburgh.
Occupying vacant land and car parking currently owned by Tesco Bank the project would further efforts to diversify Edinburgh Park as a mixed and well-integrated portion of the city through a more balanced selection of uses, including new houses and flats by Barratt and David Wilson Homes.
The key to this approach will be opening up pedestrian and cycle links to the surrounding area by rationalising car parking around the existing office block, freeing up the remainder of the site for new streets, public spaces and landscaping.
Accommodation will comprise a mix of apartment blocks of up to six floors, three-storey colony housing and a commercial block comprising a ground floor nursery and Tesco store with two levels of office space above.
In a statement, the applicant wrote: "The development will sensitively respond to the surrounding development, with flatted blocks backing onto the south-western and northern boundaries and new frontages established to South Gyle Crescent to the south-east. A mix of development densities and accommodation types, including apartments blocks and colony housing will establish architectural variety and alternating street structure."
Overseen by EMA the outline plans will be subject to an online chat this Thursday, 14 October, between 15:00 and 19:00.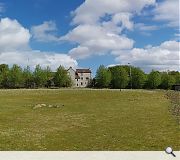 The site is composed largely of made ground
Back to October 2021