Crumbling Glasgow bridge repairs to drive regeneration
|
Send to friend
October 6 2021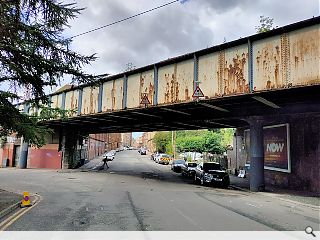 Network Rail is to conduct a £700k refurbishment of a dilapidated Glasgow bridge as part of an ongoing infrastructure modernisation programme.
Work will involve grit blasting flaking paint and rust from Bell Street bridge in the inner east end, as well as carrying out steelwork repairs and repainting from 18 October to 1 April, with diversions in place throughout the work.
Stephen Orr, scheme project manager at Network Rail, said: "Our work at Bell Street will not only extend the lifespan of the bridge, but will help us to continue to run a safe and reliable railway through Glasgow.
"In order to complete this project as quickly and as safely as possible, we need to close the road under the bridge to traffic. Having the road closure in place means we can carry out these works with minimal overall disruption and inconvenience to the community."
The work follows ongoing regeneration of the area including the Bell Street Stables, a new build apartment block at 331 Bell Street and the delivery of 32 mid-market rent homes at the junction with Little Dovehill.
Plans are also in train for a £200m build to rent project on former railway lands to the immediate north.
Back to October 2021