Coastal home to maximise views across Sea Mill Beach
|
Send to friend
October 6 2021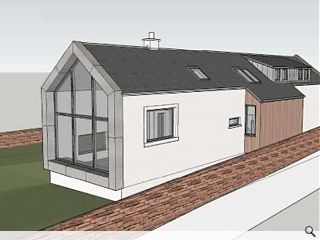 Plans for a replacement home at Ardrossan Road, West Kilbride, North Ayrshire, have been filed by IDA Design and Architecture.
Built from materials that are in keeping with the B-listed Sea Mill next door the painted wet dash render property will feature elements of timber and stone cladding and a fully glazed gable looking out to sea.
Rising on land owned by the neighbouring property at 45a, the site is bounded by 1.5m stone walls to the south and east which will be retained and extended along the northern boundary.
In a statement, the practice said: "The positioning creates an informal courtyard space between the mill buildings and the new house, all of which will be of similar style, scale and materiality. The seaward gable elevation is intentionally aligned with the existing seaward gable of the mill building, respecting the existing built extent of the mill.
"At its closest, the house will be ~1.4m from the boundary with 45a for a length of 6.1m, but this is only where the neighbouring side gable elevation is directly adjacent - and at a similar distance to the boundary. Where the new house is adjacent to the garden boundary, it will be ~2.4m from the boundary."
Public access to Sea Mill beach will be maintained as part of the works, including improvements to a private lane.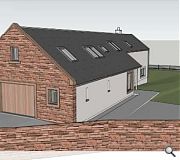 A stone-clad gable responds to the B-listed Sea Mill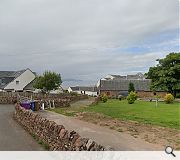 The site offers elevated views across the Firth of Clyde to Arran
Back to October 2021