Glasgow Edinburgh Developments rekindle inner city interests
November 28 2017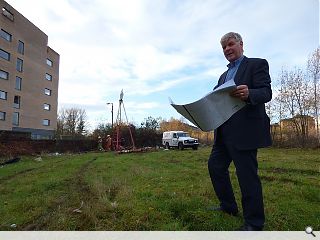 Site investigations have begun at a development of
54 flats and a ground floor commercial unit at 331 Bell Street, Glasgow
, with developers poised to unlock funding for the city centre site.
Designed by Jewitt & Wilkie Architects and David Narro Associates the development is being brought forward by Glasgow Edinburgh developments to occupy vacant ground to the east of Glasgow Cross.
Speaking to Urban Realm developer Andrew Borthwick said: "Our design team are working on the building warrant drawings to go with the planning permission and will be applying for stage one building warrant in January.
"It's going to be a six storey building on top of a car park podium with 54 flats and a courtyard on top of the parking. We will have a commercial office on Bell Street with a commercial firm already signed up."
Asked why he'd chosen this moment to resume development in the area, a decade after completion of the nearby Merchant Building, Borthwick said: "It's partially to do with funding. Edge of town, suburban units came back fairly quickly but inner-city redevelopment outside London was bottom of the list. Now the banks are looking to lend again. There is a latent demand to buy flats in city centre locations, partly from small time investors.
"You need to start with a one to make it work, £200k is not impossible for one or two penthouses but generally speaking £150-175k is possible for a two-bed flat depending on outlook. We've already had two or three big companies interested in taking some of the flats from us. One advantage is flats at the far end looking toward the city will never have anything built in front of them because of the railway line. From the first floor up they will have quite a nice skyline view."
A contractor is said to be close to being appointed ahead of work beginning in earnest by April 2018.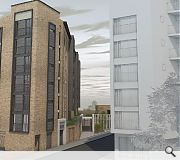 The Bell Street build will be set back from the road behind a ground floor podium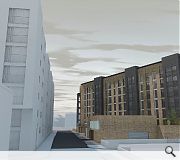 The scheme abuts the City Union railway line
Back to November 2017