Architecture Scotland Annual 2021 breaks cover
September 13 2021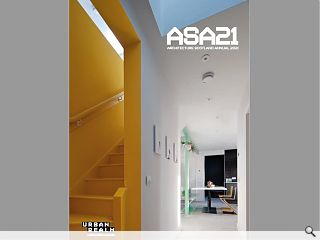 A year of social distancing has kept us apart but it has also drawn us closer together in a shared experience which gives us all cause to rethink how, why and where we live our lives.
Urban Realm's 2021 Architecture Annual reflects these changes with an exploration of new ways of living, working and studying evidenced by our latest collection of Scotland's best new buildings.
Qualities of space, light and accessibility are more important than ever, as represented by projects such as the Compact Accessible Home by Chambers McMillan Architects. Our headline project is a hands-on conversion of a former church that shows how adversity can be the driver of more inclusive forms of living, not to mention the cathartic qualities of a blow torch.
In a similar vein, we present the Gannochy Lifetime Neighbourhood by Anderson Bell + Christie, a novel housing scheme that carries the baton of pioneering themes established by the original 1923 masterplan with a contemporary interpretation of multi-generational living.
We also take time to explore a timber temple at the Lockerbie Sawmill by Konishi Gaffney, a rural showcase that elevates Scottish larch front and centre to showcase modern sawmilling, an industry that promises to play a lead role in decarbonising construction.
Order your copy today to join us for over 100 pages of class-leading designs and don't forget to send us your work for next year's edition.
Back to September 2021