Lighthouse-style still tower elevates Glenmorangie Distillery
September 10 2021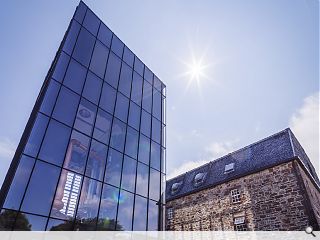 Whisky brand Glenmorangie has thrown open the doors to a landmark lighthouse-style distillery in the Highlands near Tain, dominated by a vertical glass stillhouse and sensory laboratory.
Ditching the traditional 'Doig's cupola' distillery design the innovative approach has been championed by Glenmorangie's director of whisky creation Dr Bill Lumsden together with Franco-Uruguayan architecture practice Barthélémy Griño and Blyth+Blyth engineers.
Thomas Moradpour, president and CEO of The Glenmorangie Company, said: "Global demand for Glenmorangie is growing significantly. The first of its kind, our Lighthouse experimental distillery is the keystone of our plans to stay at the forefront of taste innovation."
A two-year build has delivered a 20m tall glass stillhouse rising above traditional stone buildings of the main 1843 distillery, now a brewhouse, as a coastal beacon. The dramatic vertical space houses a triple-height still room equipped with two copper stills each as tall as a giraffe. Transparent walls permit views of these objects from outside, enveloped by wood-hybrid cladding sourced from select casks.
Above the still room, a dramatic sensory laboratory has been housed, with a tasting room and terrace giving a flavour of the Dornoch Firth.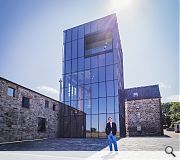 Elevated views will spur the creation of new whisky flavours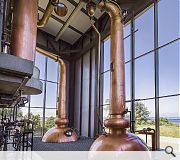 Guests may sup whisky while looking out to to the Dornoch Firth Bridge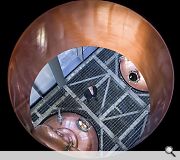 The Lighthouse will be partly powered by biogas, created in Glenmorangie's own anaerobic digestion plant, from the by-products of distillation
Back to September 2021